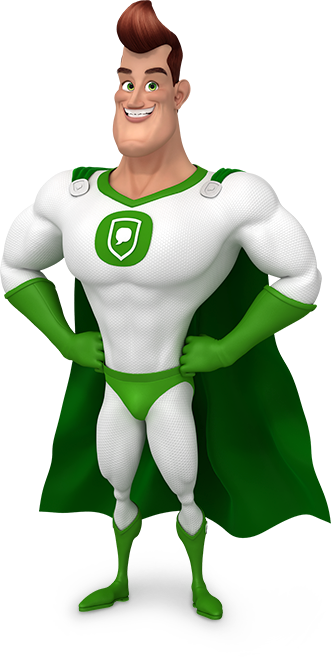 DeftMan
DeftMan is your personal superhero from Monaco. He lives and works in your phone, inside DefTalk messenger. Not only he sees that no one gains access to your correspondence, he also helps make your communication more exciting and interesting.
For this DeftMan created a wide choice of stickers for you, each being a true work of art filled with pleasant feelings and emotions.
Furthermore, our superhero stands guard over your safety and protects your correspondence from undesired interference. You can rest assured that nobody will ever be able to gain unauthorized access to it.
DeftMan and his friends will always keep you entertained — he will always help you lift your spirits and choose the right sticker for the feelings and emotions that you wish to express. DeftMan perfectly copes with all hardships that he may encounter on his path and always comes out the winner from all mischiefs. Our hero is joyful, communicative and has a positive attitude. He is always ready to come to the rescue and make us smile once and again.
His mission is to make our communication safe and our life happy and enjoyable.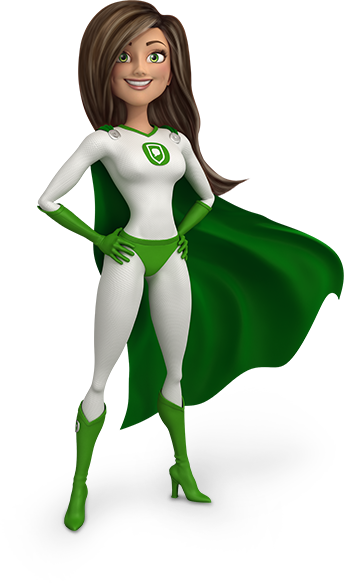 DeftGirl
DeftGirl is our superhero's girlfriend who helps him in his work. She knows all women's secrets and her task is to help women who use DefTalk.
DeftGirl is also from Monaco. By the way, the two of them met there, at a party of superheroes. When DeftGirl heard that this nice looking guy also wanted to defend people and protect privacy of their communication in the Internet she fell helplessly in love! Since then they have been inseparable and ready to help you at all times!
Just like all the girls, DeftGirl loves to chat. However, superheroes, as we know them, are very busy, which is why she uses various colorful stickers to express her thoughts and feelings faster.
DeftGirl completes her man; she is inventive and joyful; she loves adventures and jokes. She creates a positive environment around her and never lets her beloved man to worry or get bored.
In addition to that, DeftGirl loves to draw and fills her home with many beautiful drawings and small pictures, often depicting her friends and relatives and, at times, our lovebirds.
DeftGirl is always in good mood and her charming smile turns every head. The love that she gives to the people around is the most important thing for her.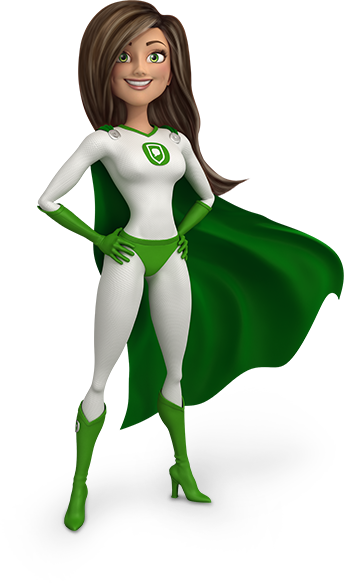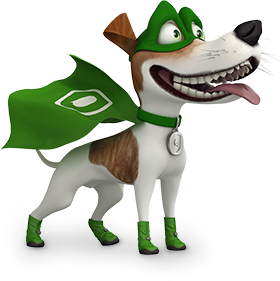 DeftDog
One day, during one of his dangerous adventures, DeftMan saved a little puppy that grew up to become a true help and friend to our hero. An incredibly clever DeftDog easily finds bad guys and helps our hero fight them. Just as any other dog DeftDog loves to play and gets naughty, which is why it is always fun to be around him.
DeftDog or Deffie is the best superdog in the world! Deffie will also become your true friend, because the dog's mission is to protect and defend those who are next to him. That is why you are reliably protected!
DeftDog has an excellent sense of smell and as soon as he smells that somebody wants to break into your phone and hack your correspondence, he will immediately notify everybody about it!
Nobody has managed to go unnoticed by him yet! Rest assured DeftDog will not let anyone near your personal data!